An exclusive inside look with your free CNN account
🇺🇦  for these journalists, the war in Ukraine is personal
If you speak with any CNN staffer covering the war in Ukraine, they'll tell you the network's reporting wouldn't be possible without the local Ukrainians supporting the operation. 
"They're very often the unsung heroes of the work we do. … They are our eyes and ears on the ground, and they help shape our coverage," CNN's Ingrid Formanek told Inside CNN earlier this summer. Formanek is an executive producer stationed in Ukraine. "Those of us who come in to report from the outside go home at the end of our assignments. They don't have that luxury. They live the war day after day."
We spoke with four Ukrainian journalists who have been working with CNN in the region. Below, you'll find a brief introduction to each of them, followed by highlights from a recent conversation where they discussed the grim realities that come from reporting on a war tearing through their country.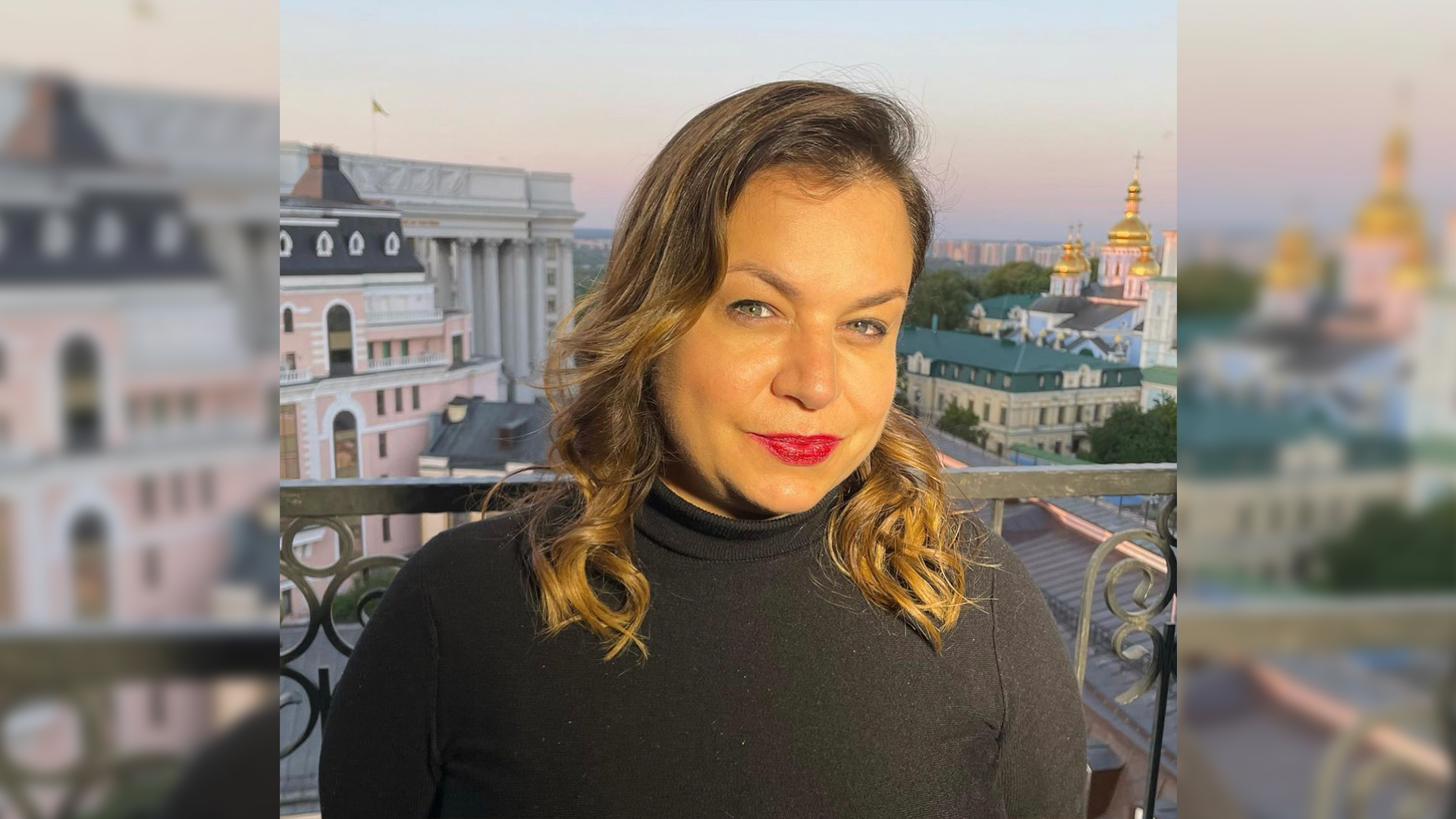 Victoria Butenko is a producer for CNN in Ukraine. She was born in the country, and though her family lives there, she has stayed away from them during the war for security reasons. She has a political science and sociology degree, as well as a master's in public administration. She studied in the United States for two years and has worked in public relations, research institutions and government.
CNN anchor John Berman, left, with Ukrainian journalist Petro Zadorozhnyy in Lviv, Ukraine, on April 1. 
Petro Zadorozhnyy helped launch CNN's field studio in Lviv, and he coordinates the movement of teams and works as a producer. He has lived in Ukraine his entire life along with most of his family. Prior to joining CNN, Zadorozhnyy was a photojournalist covering major events such as the deadly 2014 protests in Kyiv and the beginning of the war in Donbas. 
Olga Voitovych, left, with CNN's Ingrid Formanek.
Olga Voitovych works with CNN's editorial teams in Ukraine. She has lived in Ukraine for most of her life along with her mother and an aunt. For the past six years, she lived in Germany studying at a university where she's pursuing degrees in journalism and political science. She said she returned to Ukraine in February when "it became clear that my country needed help." 
Dennis Lapin in the Ukrainian village of Tsyrkuny in May.
Dennis Lapin is a local producer for CNN in Ukraine. He lived in Donetsk until he was forced to leave because of the conflict that started in the region in 2014. He started working with CNN that same year and has been with the network since. Before joining CNN, Lapin was a writer for several newspapers and magazines. He organized a tourist bureau in Donetsk and, along with a group of friends, helped build a website dedicated to the history of Donetsk. 
How did you end up working for CNN? Was it something you anticipated happening?
Butenko: I was recommended to join (correspondent) Matthew Chance's team back in 2005. The first assignment I did was at the Chernobyl nuclear power plant site. At that time I already had the experience of working for NBC, the Wall Street Journal, the Los Angeles Times and other outlets. Of course, I never expected for my relationship with CNN to be this long. 
Zadorozhnyy: In February this year I received an offer to work with CNN for seven to 10 days. I thought that would be an interesting experience, so I agreed immediately. Now I have been working for more than five months. To be honest, I didn't believe that the full-scale war could start and our lives would turn upside down.
Voitovych: I did not know how best to help Ukraine. Therefore, when I was offered to work with CNN, I agreed immediately. It was like a sign from above for me. Gul Tuysuz (a senior field producer for CNN) called me and asked where I am and when I can start. It was the shortest interview in my life. I passed the last exam at my university, spontaneously packed my suitcase and flew to Ukraine. Initially, we agreed that I would work a week, a maximum of 10 days. Now I've been here for six months. It's still hard for me to believe that everything that is happening now is really happening to us.
What's something you won't forget from covering Ukraine?
Butenko: Through the years I've been with CNN, the network has covered many events in Ukraine, including the start of the war in the east of Ukraine, the Russian annexation of Crimea, and current events. I think the most memorable moment is hearing there is debris with "Malaysia" on it in non-controlled territory. It was MH17, a Malaysia Airlines passenger flight with about 300 people on board taken down. 
Zadorozhnyy: It's hard to talk about the experience of war that unfortunately still continues. I hope the worst events are left behind, but almost every week I receive messages about friends or acquaintances who died at the front line. What I won't forget is the price we pay for peace and normal life. All of us believed that peace and international justice are part of the modern world and that nobody can break it. Unfortunately, we faced the opposite.
Voitovych: As a journalist with many years of experience, I have covered many wars and conflicts. Of course, they all were a human tragedy. My colleagues and I were worried when we saw the suffering of people in Syria or Afghanistan. But the war in Ukraine is so much more, because this is my home. And it hurts so badly to see it in ruins. Before, I had to explain where my native town, Volnovakha, is. Now the name of the town is known all over the world, and I dream more than anything that I again have to explain where it is.
Lapin: On my third day at work in 2014, I was lying face down on the hot, dusty asphalt. A machine gun was pointed at me, and we miraculously escaped. Or when we were planning to film the Ukrainian army column leaving Ilovaysk in August 2014. We decided to stop by a couple of surrounding villages, and in one of them the group was detained and convoyed to Donetsk. They dealt with us there and let us go but forbade us to leave the city for a few days. When we arrived at the place where the Ukrainian military column was leaving, we saw that they had all been killed that day. No one had survived. There was heavy artillery fire. And if we had been there, we would have been killed, too. It turns out that detention saved our lives. 
What is it like to report on a war that's happening in your own country?
Butenko: Covering a funeral of someone we know is the most awful report one can think of. As well as having to cover a speech announcing an invasion into my own country. Of course there are personal choices. Do you stay as a professional or do you leave as a mother? How do you concentrate on the work when your child is in the country at war, your house could be destroyed, your friends are evacuating, and your colleagues are being drafted to the join the military? 
Voitovych: For me, this war is very personal. It separated me from my mother, who is now in the Donetsk region, from my pets. It took away my opportunity to go home and hug my family. But at the same time, it gave me a new family -- all my colleagues from CNN, whom I love with all my heart. Who shared with me probably the most difficult moments in my life, supported me and were just around. I'd like to tell the whole world about this war. And that's why I'm here. And I'll be here until the end. 
Lapin: It's very hard. Especially since the war has divided everything in a real way. I have childhood friends who are fighting on the other side, quite a few who are no longer alive. Before my eyes, places dear to my heart are being turned into ruins. It's very painful, but it's all the more important to show the world what's really happening in Ukraine. Journalism in Ukraine is in its infancy, so I am glad that CNN pays so much attention to Ukraine and the war.
Zadorozhnyy: It's very personal. During these six months of the Russian invasion, I lost three close friends: Maks Levin, an amazing photojournalist and videographer, Vitaliy Derekh, also a skilled journalist and modern artist, and Artem Dymyd, a restless traveler and BASE jumper. My brother, Roman, is at the front line. It's impossible to remain unconcerned while covering the war because this is my country, my neighbors and my friends. Moreover, it's not only about Ukraine but also about the common future of the world -- about the faith in humanity and justice that we lost after February 24 and what we want to restore. Covering the war feels very personal, and at the same time it's crucial for me to help show what is happening in Ukraine.
💳   CNN insider rec of the week
Brought to you by CNN Underscored
We put the most popular emergency radios to the test, comparing their ability to issue alerts and receive emergency weather broadcasts, and assessing how functional and useful they would be in an actual emergency situation. Check out our top pick, which is under $60.
- Written and edited by Kyle Almond, Tricia Escobedo and Jessica Sooknanan
INSIDE CNN
An exclusive inside look with your free CNN account