An exclusive inside look with your free CNN account
⚖️ She brings you the inside scoop on the Supreme Court
CNN's Joan Biskupic with Fareed Zakaria taping the upcoming CNN TV special "Supreme Power: Inside the Highest Court in the Land."
The Supreme Court's decision that overturned Roe v. Wade and abortion rights in June sent shock waves across the United States and left people wondering whether the justices might issue another seismic decision during their next term.
 
When the nine justices reconvene on Monday, CNN senior Supreme Court analyst and biographer Joan Biskupic will be there to bring viewers and readers behind the scenes with her authoritative reporting and analysis.
 
Biskupic, who joined CNN in 2017, has been covering the nation's highest court for three decades. She previously was the Supreme Court correspondent for The Washington Post and USA Today. Biskupic also worked as legal affairs editor at Reuters and taught law classes. She grew up in Chicago and got her start in journalism as a government and politics reporter.
 
Biskupic has written several books about the court, including biographies of Sandra Day O'Connor and John Roberts. Her upcoming book, "Nine Black Robes," explores the court's recent major decisions and the internal negotiations that produced them.
 
We recently chatted with Biskupic from her office in Washington, DC. Below is an edited version of our conversation.
 
What led you to pursue a career in law? 
It's the human drama behind the cases themselves. If a dispute is going to make it all the way to the Supreme Court, you know that there's something very important and urgent there. I'll use the Roe v. Wade reversal as an example. That case came from Mississippi, and it involved a 15-week abortion ban in the state. But the way the justices ruled is affecting everyone throughout the whole country. There are reverberations nationwide. That decision rolled back a half-century of women's privacy rights.
 
Were you surprised by the Roe v. Wade decision? 
Until late 2020, I would've said that they're never going to overturn Roe v. Wade, which had been around since 1973. It had been robustly affirmed in 1992 by a conservative-dominated Republican appointee court. It has been so reinforced through the decades and had become so much a part of America's cultural history, and the political landscape. But when Donald Trump got his third appointee on the bench — Amy Coney Barrett — and it was someone who we knew had spoken out against abortion rights, I began to think that maybe there was a possibility of reversal. Once I saw what happened when the Supreme Court ruled in favor of Texas' six-week abortion ban, which was essentially a prelude to the Mississippi case, I thought this could become real.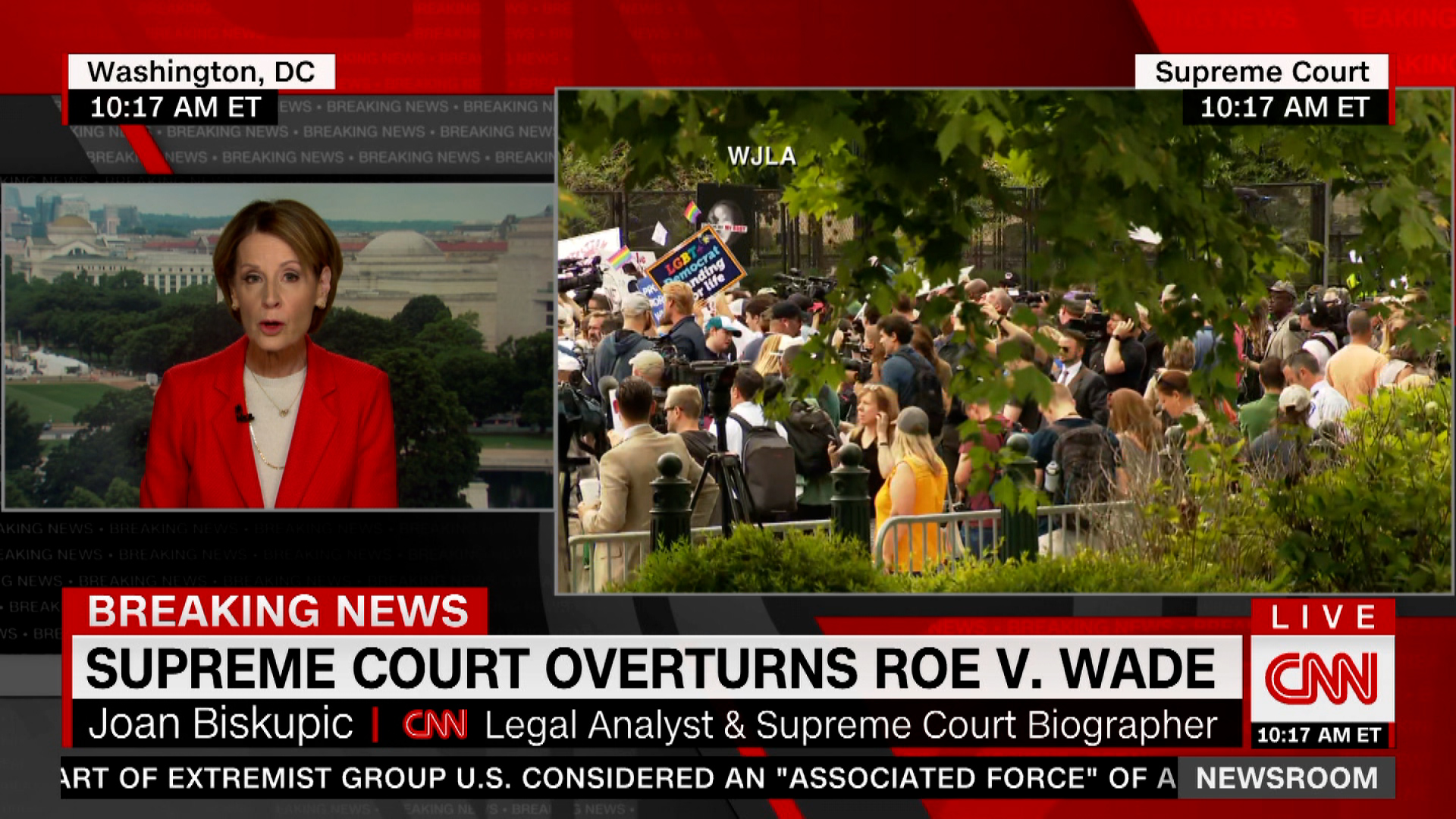 Biskupic reports live on the day the Supreme Court issued a ruling that overturned Roe v. Wade.
How do you think the leak of the draft opinion affected what transpired?
That leak showed everyone where five justices were, and especially Justice Brett Kavanaugh and Justice Amy Coney Barrett — the newest members of the court — where they had already planted their votes. Their sentiment became so obviously public. We had suspected from oral arguments that they would want to reverse Roe, but they weren't publicly locked in. But once the leak occurred, they likely became less receptive to internal negotiations. The chief justice likes to work behind the scenes, offering concessions and winning concessions from colleagues. So the public nature of that leak affected those negotiations, and once that leak was out there, I think it locked everyone in.
 
Do you expect a ruling on marriage equality? 
I think everything is now on the table. Whether the 2015 Obergefell ruling could ever be reversed at this point might seem out of the realm of possibility, just because so many families, so many individuals, have relied on that ruling. But now, after what we just saw in June, it's hard to say "never" to anything. Clarence Thomas and Samuel Alito really feel like the clock is ticking on them. They are both feeling the urgency of their time on the bench. I do not think that same-sex marriage is going to evaporate. But I'll tell you what could happen and what is likely to happen: It will be harder for same-sex couples to bring claims of discrimination against people who provide services — for weddings, for example.
 
What about expanding the court or imposing term limits?
I don't think term limits are going to become a reality because the political will simply isn't there. It would have to start with members of Congress wanting to put that question out there. Under the Constitution, justices and judges are appointed for life, so arguably the Constitution would have to be amended. And that seems like a very tall order. The majority in Congress has not moved in that direction, and President Biden has expressed reluctance for it, too. So as far as term limits and expansion of the number of seats on the bench go, I don't see any changes.
 
Let's talk about women on the court.
I wrote my first biography about the first woman, Justice O'Connor, who was appointed in 1981, and then I spent so much time with the second woman, Ruth Bader Ginsburg, who came on in 1993. But consider how different each of them was from each other: one is a Republican from Arizona, the other a Democrat from Brooklyn. They had different views of the law. Amy Coney Barrett and Ketanji Brown Jackson are distinctive in their own ways and different from our first Hispanic justice, Sonia Sotomayor. Justice Barrett is the first strong right-wing woman justice. She became the first woman justice to ever vote to overturn abortion rights. Justice O'Connor, who was a Republican appointee of Ronald Reagan, ended up being one of the key votes who saved Roe v. Wade in 1992. And then you have Justice Elena Kagan, whose dealmaking style is very different from her colleagues. She is one of the justices who I pay special attention to because, like John Roberts, she is always trying to affect cases behind the scenes.
 
How do you see the court changing over the next few years?
The court that we're seeing now is the court of our future. The three Trump appointees — Barrett, Kavanaugh and Neil Gorsuch — are among the youngest. They're all in their 50s. So those three are going to be the anchor of this court for a very long time, and obviously those three have only seemed more emboldened by their place on the right wing. Justice Jackson, President Biden's appointee, is also in her 50s. On occasion, Justice Gorsuch or Justice Kavanaugh might inch a little bit over toward the liberal side. But what we've seen in this most recently completed term is that they are solidly part of this new conservative supermajority. This is likely to be the court for decades.
 
What's one thing you hope the audience gets from your reporting?  
I'm trying to bring to our viewers the drama of what can be a dry legal world, especially through character-driven accounts of what goes on behind the scenes and what the justices don't want you to know. I'm reminded of something that a court official once told me: "If we had wanted you to know that, we would have told you." I thought: "Well, that's not how it works. If I want to know it, I'm going to find it out."
📚 A Supreme Court reading list from Joan Biskupic:
    - 20 years of closed-door conversations with Ruth Bader Ginsburg 
    - Behind the scenes at the secretive Supreme Court 
    - Late nights, courtesy votes and the unwritten 6-vote rule 
    - Conservative justices seized the moment and delivered 
    - The force of the Supreme Court's right turn shakes the country 
💳   CNN insider rec of the week
Brought to you by CNN Underscored
From home decor to beauty products to luggage, we've rounded up some of our favorite lifestyle brands led by some seriously inspiring women. Shop our top picks right here.
🏛️ Watch:  Dive deeper into the nation's highest court: "Supreme Power: Inside the Highest Court in the Land," hosted by Fareed Zakaria and featuring Joan Biskupic, premieres this Sunday at 8 p.m. ET/PT.
📥  Subscribe: This week, CNN relaunched the widely read "Reliable Sources" newsletter. Sign up here to get sharp and uncompromising reporting on the evolving media landscape from CNN's senior media reporter Oliver Darcy.
🌀 Hurricane Ian: Get live updates from CNN throughout the day on this catastrophic storm as it makes landfall in Florida. 
- Written and edited by Kyle Almond, Tricia Escobedo, Jessica Sooknanan and Daniel Wine
INSIDE CNN
An exclusive inside look with your free CNN account