An exclusive inside look with your free CNN account
✍️  readers love this writer's funny, informative style 
Allison Morrow, senior writer for CNN Business. 
CNN's Allison Morrow has a flair for making you laugh while reading her stories on dense topics, like inflation and cryptocurrency. Morrow is an ultramarathon-running, dog-loving, tattoo-bearing senior writer for CNN Business. 
In addition to her stories on CNN.com, Morrow is the lead writer of the CNN Business Nightcap newsletter, which summarizes the day's biggest business stories alongside Morrow's signature commentary. Nightcap readers regularly email to applaud Morrow's cheeky writing style. 
She's also featured on CNN's newly minted Nightcap video series, which publishes new episodes every Thursday on CNN digital. 
She recently spoke to Inside CNN. Below are excerpts from our conversation:
How did you get your start in journalism?
I decided I wanted to be a journalist when I was 16 years old. It seemed like the way I could write and have a cool life, meet new people and have interesting adventures. I went to the University of Missouri Journalism School, and my obsession with language and grammar and quippy headlines led me into the copy editing route. My first job was at The Wall Street Journal in late 2007, where I was the most junior of junior copy editors that you could get. The timing was interesting because first of all, I knew nothing about business or finance. I took the required Econ 101 class in undergrad, and that was it. So I thought, "I can't believe I'm going to be working for like the premier business publication in the country." I was completely overwhelmed. I spent every day reading the paper front to back and trying to absorb what this world was that I had no exposure to. And then the 2008 crash happened. It felt like a front row seat to the world imploding.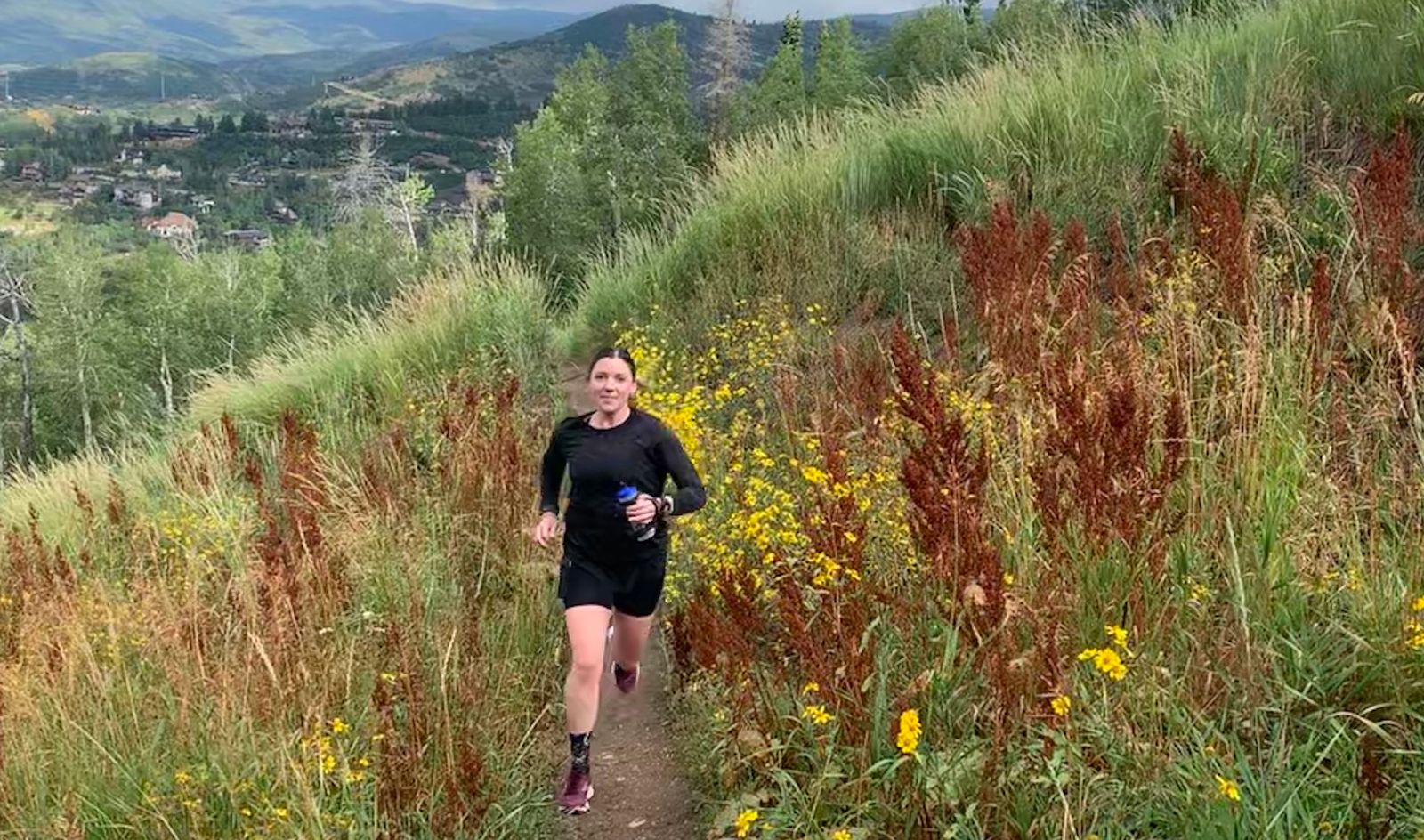 Morrow on a run in Steamboat Springs, Colorado.
When did you start with CNN? 
I came to CNN in 2016 as a senior editor on the social media team, which was kind of a pivot for me. I wanted to learn more about new storytelling formats. Snapchat was the really big thing that everyone was trying to understand and get their news outlets on, so that was kind of my section of the social media world. We were putting out kind of like a digital magazine on Snapchat every day, which was a huge production lift. 
Eventually I got the itch to get back to writing, editing and working with reporters on the ground. I had a good rapport with the editors on the business team. So when the CNN Business team was expanding, I started chatting with leadership to make the move. I started on business just over two years ago.
How did you start writing Nightcap? 
I think the timing was just really fortuitous. I was thinking about Nightcap even before I joined CNN Business. I have a craving all the time for good writing. It doesn't even have to be funny.  The things I gravitate to as a reader are very complicated subjects that I don't fully understand and that can be explained to me by someone who's done the work to figure them out. I told my bosses at CNN that I was interested in figuring out a place and a potential product for that voice. I wrote up a few prototypes of the newsletter, and I have to say this is a credit to CNN culture, my bosses said, "This is great. Let's do it." Almost immediately we were having meetings to bring the newsletter to life. 
What's something Nightcap readers might be surprised to learn about you? 
I live in Brooklyn with my boyfriend and our two dogs. I have a lot of tattoos; that's something readers might not suspect about me. I'm also a distance runner. Prior to the pandemic, I was doing ultramarathons. An ultra is anything longer than 26.2 miles. My longest race was 100 kilometers, or 62 miles. I've just started to get back into it. I did my first marathon in years in late March. 
Tell us about the video series you're working on.
Yes, Nightcap is now also a weekly show for CNN digital. It's a 15-minute format, hosted by Jon Sarlin. I contribute as a reporter. I'm not an on-camera person -- I never have been -- but I'm learning and that's fun for me. We're experimenting with the format a little bit, too, trying to maintain the newsletter's casual style. I want it to be less of a collared-shirt, talking-heads platform and more like a bunch of friends in a bar chatting about the news of the day. That's my vision, at least. 
You can watch new episodes of Nightcap every Thursday, and catch all the episodes here. 
To read business news and analysis from Morrow every Monday through Thursday, subscribe to the CNN Business Nightcap newsletter. 
💳   CNN insider rec of the week
Is there something or someone at CNN you'd like to see spotlighted next? Send your thoughts to insidecnn@cnn.com. 
- Written and edited by Kyle Almond, Tricia Escobedo and Jessica Sooknanan
INSIDE CNN
An exclusive inside look with your free CNN account