An exclusive inside look with your free CNN account
🌍 Sara Sidner covers conflict around the world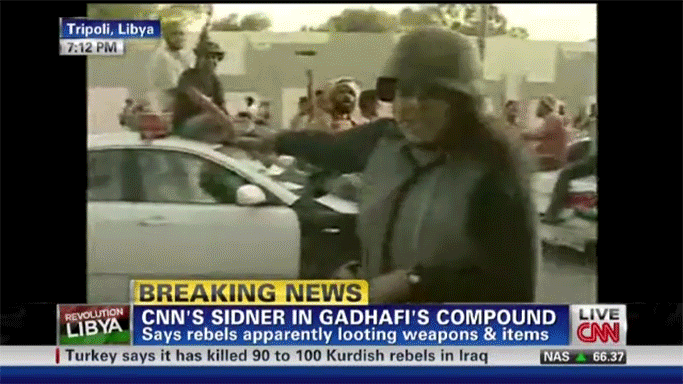 A barrage of gunfire rings out as a helmeted Sara Sidner authoritatively explains the chaotic scene unfolding behind her on the streets of Tripoli, Libya.  
"I'm going to try to not get hit by any of those rounds," she notes. Armed rebels are storming the compound of Moammar Gadhafi, shortly after ousting the longtime Libyan leader — the latest uprising during the so-called Arab Spring in 2011.
It's one of many conflicts Sidner has bravely covered around the world since she joined CNN in 2008.
Today, Sidner is a US-based senior correspondent who has garnered accolades for her thoughtful and sometimes emotional coverage of the coronavirus pandemic, the 2020 George Floyd protests in Minneapolis and the 2014 unrest in Ferguson, Missouri, after an unarmed Black teen was shot and killed by police.
Sidner grew up in Florida watching news shows such as "60 Minutes" and "20/20" and earned her telecommunication degree from the University of Florida, which named her an Alumna of Distinction. She's quick to throw in an enthusiastic "Go Gators!" to a fellow graduate — or anyone, really.
We caught up with Sidner recently after she returned from Ukraine and on the heels of her move from Los Angeles to New York C­ity. The following is an edited version of our conversation.
What led you to pursue a career in TV news?
My mother hates this, but we did not have a television when I was a child. I was told to go outside and play or read a book. I was always fascinated by television when I would go to my friends' houses, and you couldn't rip me away from cartoons. And then, of course, the news. I've always been interested in stories, even just regular everyday stuff. It fascinates me — other people's lives.
What's the toughest story you have covered?
There isn't one that is worse than another. They all start to bleed together, and there is a cumulative impact. I feel like I can say that now because I've been doing this for a very long time. I can name a string of really tough assignments because I cover conflict. I covered extremism. I covered the social justice protests. I covered shootings and wars. I just came back from Ukraine, seeing people try to live in a scenario where you're in fear for your life on a daily basis. It's all too much. It's a weight on your shoulders that you cannot lift off. So that part is difficult. That part bears down on you. Sometimes you have to find your breath of fresh air.
How do you manage stress and decompress?
I don't manage stress well. Sometimes I eat my feelings. Exercise definitely helps. I have been trying to meditate. It's hard because my brain is going a million miles a minute. I'm always singing, always humming. I pick up songs all the time, everywhere I go. This is one of my coping mechanisms. Singing something helps my nerves.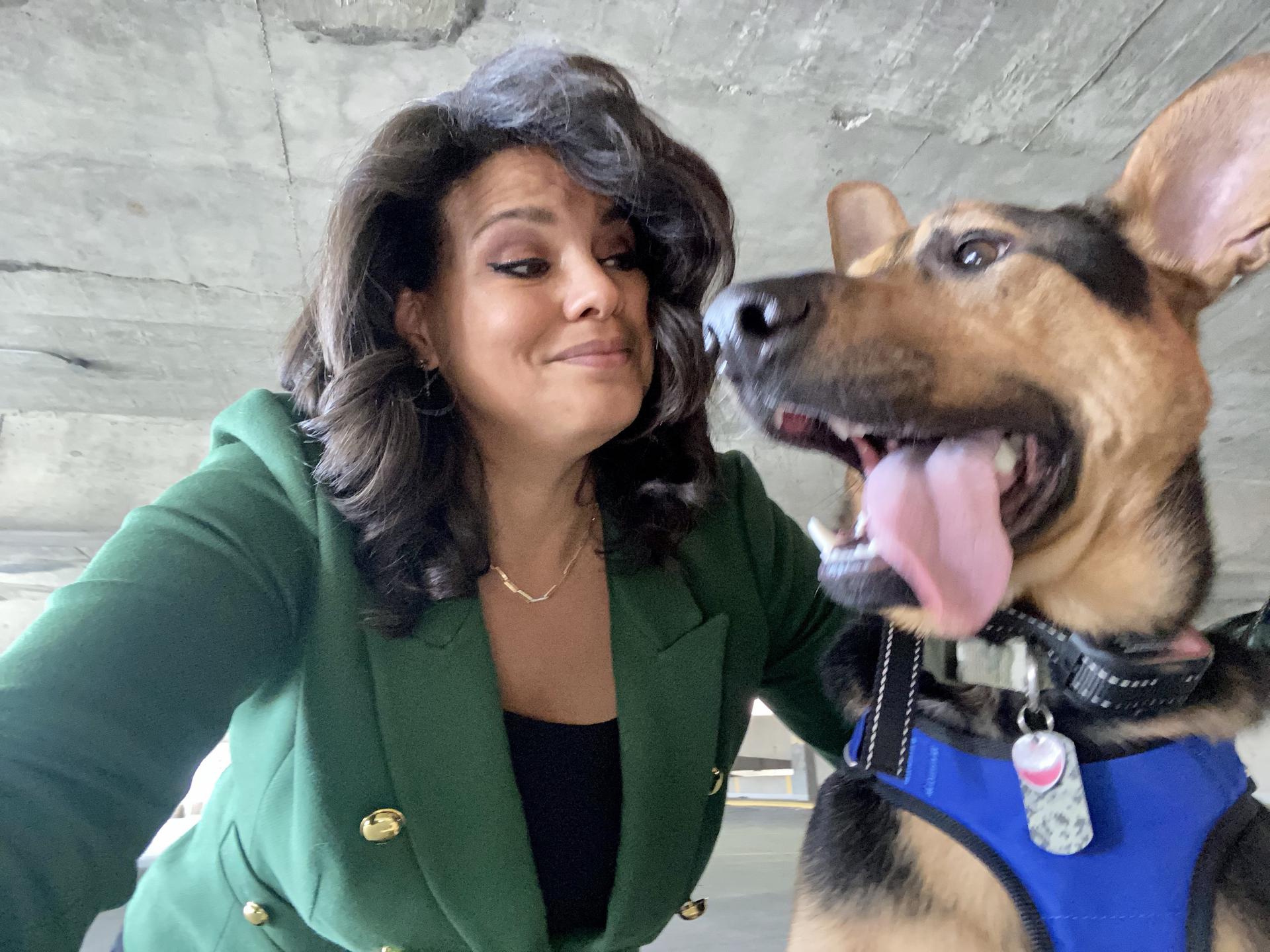 Sidner says she begged a security guard to bring his dog to her live shot location in Minneapolis while covering the Derek Chauvin trial. (Photo credit/Sara Sidner)
What stories have you really enjoyed working on?
What's interesting is that oftentimes, positives come out of tragedies. When the coronavirus pandemic started, it killed a number of people in a Seattle-area nursing home. I was there almost from the beginning. We were trying to figure out what was going on. Nobody knew how it was transmitted. People were dying, and it was terrifying. Fast-forward a few weeks, and I met a woman whose mother was inside that nursing home. She and her sister were sitting outside of her mother's room. I will not forget this: There was a big window where her mother was sitting. She was in there just for like a knee injury or hip injury. She was trying to rehab, and she got Covid. She got very, very sick. They were afraid she was going to die. And they're sitting outside the window and they're talking to her and they're eating lunch with her, but they can't touch her. Hands on the window, waving, trying to call, talking through the window. I was so touched by that, watching that happen. By the way, her mother is out of the nursing home. She is thriving. She survived. Sometimes it's the story after the story that is the beautiful scenario.
Any others that have had a lasting impact?
There's a story of a young girl, and again it starts with tragedy. She was in her house in Libya when a rocket hit their home, and she lost her leg. She was in the hospital, and I visited her there in Misrata. Someone saw the story and wanted to help her, and they brought her over to the United States. They got her a prosthetic, and now she's thriving. It's often something beautiful that comes out of something terrible.
What is something that people don't know about you?
I love animals to an absolute fault. I have almost missed live shots because I am petting someone's dog. One time I was petting a pig and the producer was screaming at me, "Please stop!" We joke about that all the time. When I am super stressed out, I will find a dog to pet. And I treat other people's dogs like they're mine. I will pick them up and roll around on the ground with them. People are like, "She's insane."
What advice would you give to someone interested in a similar career path?
If you're going to be a correspondent, it's rough on your family. You are away a lot, in unfamiliar territory. I like to tell people I'm better in a crisis than I am in real life. You do end up going from crisis to crisis. Disasters or shootings or riots or protests. Sometimes it can be really heavy, and we're all thinking, feeling beings. We are human, and it does take its toll. That being said, you get to learn about so many different people and lifestyles and subjects. It's just the most endlessly interesting job that I think anyone could ever have. You will never, ever be bored.
💳   CNN insider rec of the week
Is there something or someone at CNN you'd like to see spotlighted next? Send your thoughts to insidecnn@cnn.com. 
- Written and edited by Daniel Wine, Kyle Almond, Tricia Escobedo and Jessica Sooknanan
INSIDE CNN
An exclusive inside look with your free CNN account